Kiere is just minding her own business on her phone when a pillow is tossed her way. Next thing she knows, Kata has arrived with her own pillow to come in swinging for a pillow fight. The girls play for a while, but eventually the pillows fall to the side as they wrestle while sliding their hands over each other's bodies. It isn't long before they are kissing and caressing, with all pretense of their fun game forgotten.Kata helps relieve Kiere of her shorts and shirt, revealing Kiere's slim and busty body almost in its entirety. She fills her mouth with Kiere's pretty pink nipples while her fingers slide low to the heart of Kere's pleasure. Finding Kiere nice and wet, Kata urges her girlfriend to lay back and relax. She settles between Kiere's thighs and goes to work lapping away at her meaty bare pussy.Peeling off her own remaining clothes, Kata rearranges herself so that she can slide two fingers deep into Kiere's creamy snatch. She alternates between a pussy fingering and rubbing her thumb against Kiere's clit. As Kiere's moans grow louder and more urgent, Kata doubles down on her efforts to make her girlfriend cum.Now it's Kata's turn for pleasure and Kiere is eager to deliver the goods.
Climbing onto the top of the couch, Kata spreads her legs so that she's blatantly open for Kiere's touch. Leaning in, Kiere explores Kata's sleek folds with her fingers and tongue. That gentle foray gets a lot harder when Kata slides down so that she's on her knees leaning over the back of the couch. Sticking two fingers together, Kiere shoves them all the way inside for a rowdy finger banging while she uses the other hand to masturbate her own needy tat. Kiere isn't finished with Kata quite yet. She lays down on the couch and pulls Kata so that she is straddling her face. As Kiere's tongue slides in and out of her slit, Kata can't keep her hips still. Instead, she squirms and bucks as she rides Kiere's mouth to climax.Kata has had a double dose of afternoon delight, but Kiere's scorecard still reads one. Kata isn't about to let that fly. Curling up behind her girlfriend, Kata uses one hand to tweak Kiere's nipples while the other rubs her pussy just the right way. With just the right touch, Kata brings Kiere to her own second cumming. Cuddling together, the girls bask in the afterglow of an afternoon well spent
Website:
Twitter:
Find more at: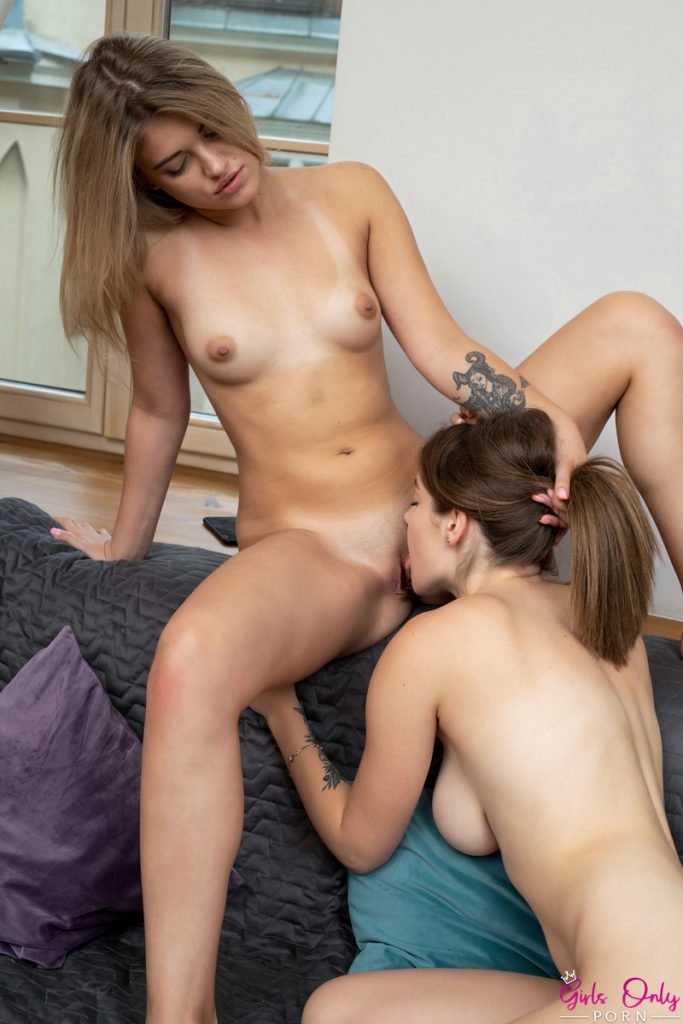 Back to Main Playful Bunny Page!